10. Amber Arcades - Fading Lines
There's always room in my life for a bit of sun-soaked indie , ever more so in 2016 when reasons to cower indoors in a paranoid funk seemed in plentiful supply. Amber Arcades is essentially Holland's Annelotte de Graaf keeping things jangly and uplifting over ten tracks of laidback indie rock with enough charm to be infectious without overdoing the cutie carefree thing. The basics are all there : hummable hooks, lilting guitar lines and de Graaf's mellow yet resolutely clear-headed delivery that makes an intricately constructed record sound virtually effortless. Think Alvvays' similarly loveable debut from a year or two ago, Cate le Bon's fluffier moments or even a lady's answer to Mac Demarco. Indeed there's no reason for this not to garner the same drooling praise the latter's 'Salad Days' hoovered up back in 2014. Her future looks bright.
9. Hinds - Leave Me Alone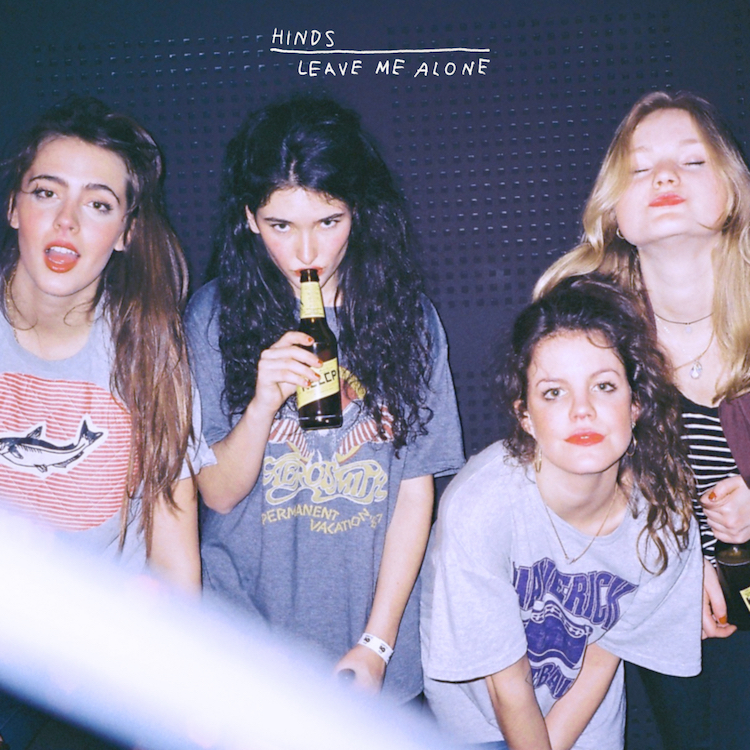 I make a point of ignoring the majority of online music journalism but there was no escaping the deluge of enthusiasm directed at these gals when their debut dropped in January to kick 2016 off to a sloshy start. Fortunately neither the hype nor 12 months' wear and tear have taken the shine off this album and it's still the year's best example of how to put a bit of fun back into guitar music. Hinds are young, Spanish and well up for a good time and they manage to smush all those elements into every track here for a thoroughly enjoyable Iberian garage romp packed with choppy riffs, yowl along choruses and cheeky humour. I saw them tour it in February and they were obviously having a great time up there, beseeching the typically reserved Parisian crowd to 'Take off your bras!' (unfortunately I wasn't wearing one). The year's most loveable debut, bar none.
8. Nite Jewel - Liquid Cool
Indie electronica is a crowded field these days and I ain't got time to wade through most of it so I flick through new releases like an impatient kid at Christmas, tossing aside anything that doesn't immediately grab my attention and only locking in for the long haul if there's something really special going on. Fortunately there's always one album that stands out from the pack and this was it, a weightless rush of haunting funk pop from the elusive Ramona Gonzalez. Think '83 era mid-Atlantic radio pop suffused with that half remembered childhood dreamyness they channel so nicely on 'Stranger Things', in fact close your eyes and Gonzalez almost sounds like MJ's lost twin from the 'Thriller' outtakes. Throw in a cluster of some of the year's strongest pop singles ('Boo Hoo', 'Kissing The Screen') and you've got a perfect album for a parallel universe where 2016 wasn't so rough.
7. Wild Nothing - Life Of Pause
God I love this guy. Every time Jack Tatum steps up to drop another album (and this one comes on the back of three years' absence) I worry he'll have lost his magic touch but 'Life Of Pause' hit the bullseye once again with another string of shimmering classics. Calling this dream pop is slightly reductive as Tatum's rooted solidly in songs over soundscapes, the potent production job taking its cues from peak-era Talk Talk and Lloyd Cole for introverted melody and the full band sound gives the tunes enough momentum to really take root. That 'Cloudbursting' dry ice woosh from his previous albums is still there but it's been fed into something bigger and more dynamic, a more confident hybrid happy to bowl it straight rather than hide behind its fringe. I still can't pick a favourite between this and his first two so if you don't have 'em than grab all three and make up your own mind.
6. Cavern of Anti-Matter - Void Beats/Invocation Trex
If you were having trouble choosing between kooky analogue pop, stratospheric Krautrock and loop-fuelled modern shoegaze then fret ye no more for Cavern of Anti-Matter are here to save the day! This is basically one of the guys from Stereolab plus a couple of other hoary indie veterans noodling around in the studio but locking into some fantastic loops along the way and the ground they cover here is pretty astonishing. Tunes flit between the ten-minute forays into hyperspace and brief flashes of off the wall eccentricity but at no point do they test your patience and you end up wanting to spread the album out like a map to explore every hidden passage. This merges the best bits of Toy's first two records, Primal Scream's 'XTRMNTR', mid 70s Kraftwerk and that warm hypnotic thing Stereolab did so well in the late 90s. A thoroughly pleasant surprise.
5. Unloved - Guilty Of Love
I was sceptical about this album having naively assumed it was some shitty late period emo effort based purely on the bandname and title. As it turns out David Holmes' latest effort comes packed with his trademark smoky bass and cinematic judder coupled with some seriously seductive Nico-esque vocals from newcomer Jade Vincent. If the Hope Sandoval LP was this years's soundtrack to a lull in romantic proceedings then this is what should've be playing earlier when eyes first met across a dimly-lit nightspot. There's a large dollop of Phil Spector echo, the velvet-lined coo of the Shangri-La's and even moodier Nancy Sinatra and a production job that travels as deep into sultry hedonism as Portishead do into jarring introversion. If you're backed up at the tension thrown up by this year's events this was the album to shake it off to with a stiff drink, a sly fag and a night of earthly pleasures.
4. Jagwar Ma - Every Now And Then
2013 saw the Aussie baggy revival hit its stride with Cut Copy's euphoric 'Free Your Mind' and Jagwar Ma's brashly confident debut 'Howlin' that drew in loose grooves, trippy guitar loops and that wide-mouthed gawp that Shaun Ryder made an effortless trademark back in the day. I was concerned the boys wouldn't be able to follow such a stellar entrance but three years touring it has given them the chance to get a feel for what really gets the crowd going and 'Every Now And Then' sees them come back with a steadier hand and a wider sonic palette to stunning effect. The three minute studio jams of their debut are built outwards into more complex yet equally danceable tapestries that reach the heights of Underworld, Leftfield or Primal Scream at their most unhinged yet the sound they craft here is entirely their own and one that can only improve on further as they move forward.
3. Dalek - Asphalt For Eden
The podium this year is steeped in anxiety, paranoia and a search for meaning in a world that increasingly fragmented. Ideal conditions for a new Dalek album then. Having sat uncomfortably between experimental hip hop and abstract extreme metal stools since their late 90s inception the trio had gone quiet of late but this strident return sees them refit the gasworks clang and skunk-soaked trepidation of their mid-noughties peak in the harsh light of the modern world. The beats are suffocatingly heavy, the vocals scrambling to stay one step ahead of total nihilism and the bass-heavy production provides the perfect answer to the non-stop barrage of opinion and invective served up to us daily in 2016. If you're looking for answers to today's harsh questions Dalek might not come through but this might be the perfect soundtrack to the frantic search for meaning.
2. Kate Tempest - Let Them Eat Chaos
When Kate Tempest's last LP 'Everybody Down' fell short of the commercial and critical success I thought it merited (it was my album of 2014) I was almost relieved that the intricately constructed hip hop narrative she'd constructed wasn't clumsily hijacked by zeitgeist-chasing loudmouths and overexposed to the point of losing its fine detail. Having scrutinised and brought to life one continuously evolving plot last time round she's split herself between separate strands taking place simultaneously across town this time with her deftly executed rap poetry chronicling the travails of several different protagonists united by one sleepless night. Her pinpoint emotional accuracy is matched by the frantic pace of her delivery as she builds up cavernous pressure only to push back just short of breaking point to leave you exhilarated once again. The girl remains in a field of her own.
1. Preoccupations - Preoccupations
The mood of the times isn't one of celebration, nor is it the time for narcissistic self-evaluation. What we listeners needed more than anything in 2016 was a vent, a channel to process the angst heaped upon the world over the last 12 months. Having come about in circumstances all too typical of our times following the sanctimonious clamour over their original moniker, Calgary's Preoccupations fed off the tension to fuel this flawless comeback record. Their tremulous post punk sounds overcrowded to the point of borderline meltdown here with stark song titles ('Degraded', 'Anxiety', 'Monotony') sculpting a emotional passage akin to a hollowed-out millennial refit of 'Dark Side Of The Moon'. In turns anthemic, cathartic and unflinchingly accurate, this was a set of tunes to diffuse the tension in your skull and set you up for the fightback. Just what the doctored ordered.