20. Dinosaur Jr - Give a Glimpse of What Yr Not
The key to musical longevity seems to be not losing sight of why fans started buying your records in the first place. Indeed, when Mascis, Lou and Murph hit the road again in the autumn I was struck not only by how warmly received they were but also by how sweet the new stuff sounds and 'Give a Glimpse....' stands up against any of their past glories. The laidback guitar melodies and breezy charm are still there and that loveable sugar crunch they perfected back in the day - widely imitated but never matched - hits home on every track of this remarkably solid late career highlight. Much like Teenage Fanclub's equally loveable 'Here' which dropped a month or two earlier this is the sound of a band who know how to pace themselves putting smiles on faces like only they can.
19. Los Noctambulos - Stranger
More gold from the Paris scene. Los Noctambulos sound like they've been scraped off a studio wall from the mid 1960s and reanimated for another tour, an echo-laden romp through the early garage days as flower power begins to loom round the corner. Think the sort of psychedelic pop they pump out in vintage clothes shop (Seeds, Bravos, Fugs, even early Mothers of Invention) tracked through a murky Parisian gig hovel in one of those converted wine cellars. I actually saw them play in such a venue and it was just as you'd imagine, plodding focus and zero eye contact with the audience but when the tunes are this good they don't need the showmanship. Grab 'Stranger' at a price of your choosing here and see if you agree with my diagnosis.
18. Eagulls - Ullages
This lot were one of 2014's most pleasant discoveries with their angsty debut so I was keen to hear what was in store for the follow up and 'Ullages' didn't disappoint. While their debut was wrought with pent-up energy and sardonic wrath, this new set of tunes takes longer, more calculated paces and comes at its subject matter with a touch more battle-hardened pragmatism, still just as frustrated but aware that simple catharsis won't cut it this time. They've never struggled to pen anthems but the likes of 'Euphoria' rise to heights beyond the scope of their early singles and the more you poke around here the more gems you'll discover. Consider this their 'Room On Fire', a second outing just as rewarding as the hit-packed debut but one that leaves a starker imprint once the hype subsides.
17. His Clancyness - Isolation Culture
If I was writing this list purely on album concepts then Bologna's His Clancyness would probably be top of it. 'Isolation Culture' attacks the ambitious theme of modern technology failing in its aim to bring us closer together only to leave us flailing in a widening void of understanding and to their credit they manage to pull it off on the back of a slow burning cocktail of wiry post punk and hypnotic noise rock. The sound of alienation and confusion throbs and crackles throughout but they've succeeded in keeping their lens clean to render it all in glorious detail for one enchanting listen that merits the journey. Like the contemplative Mediterranean cousin to Preoccupations' stunning debut, 'Isolation Culture' deserves to serve as a stark reflection of how 2016 felt at the time.
16. Audion - Alpha
'Techno in it's purest sense' is how Audion's Matthew Dear describes his work. I'll offer no argument to that. 'Alpha' is stacked just how I like it, deep and wide enough to walk around in and explore the variety of textures on offer. Dear channels Laurent Garnier and Dave Clark at their finest to combine beefy low end with metallic clanks and squelches for a slowly unfolding tapestry of infectious bleepwork that will charm on first listen yet withstand multiple return journeys. Like Clark's self-titled LP from a couple of years back, 'Alpha' worms its way to Techno's core only to swim back out in a dozen fascinating directions, each time reviving familiar tropes and chucking in some explosive new ingredients for good measure. This is well worth keeping your frequency clear for.
15. Winterfylleth - The Dark Hereafter
Seeing the skies cloud over and feeling the temperature drop can chip away at morale but there's something strangely rewarding about harsh winds and pissy weather if you are willing to tackle it head on. Manchester's Winterfylleth are no strangers to grimness and stagger their release schedule to drop the perfect soundtrack to autumn's inevitable onslaught with albums typically surfacing just as the cold kicks in. 'The Dark Hereafter' continued a faultless run of form when it landed in October, tightening the band's focus slightly from haggard stompathons to more sprawling slabs of grinding melancholy culminating in the 13-minute epic 'Green Cathedral' which might just be the best thing they've ever done. The best British metal band of their generation, their star continues to rise.
14. Gloria - Gloria In Excelsis Stereo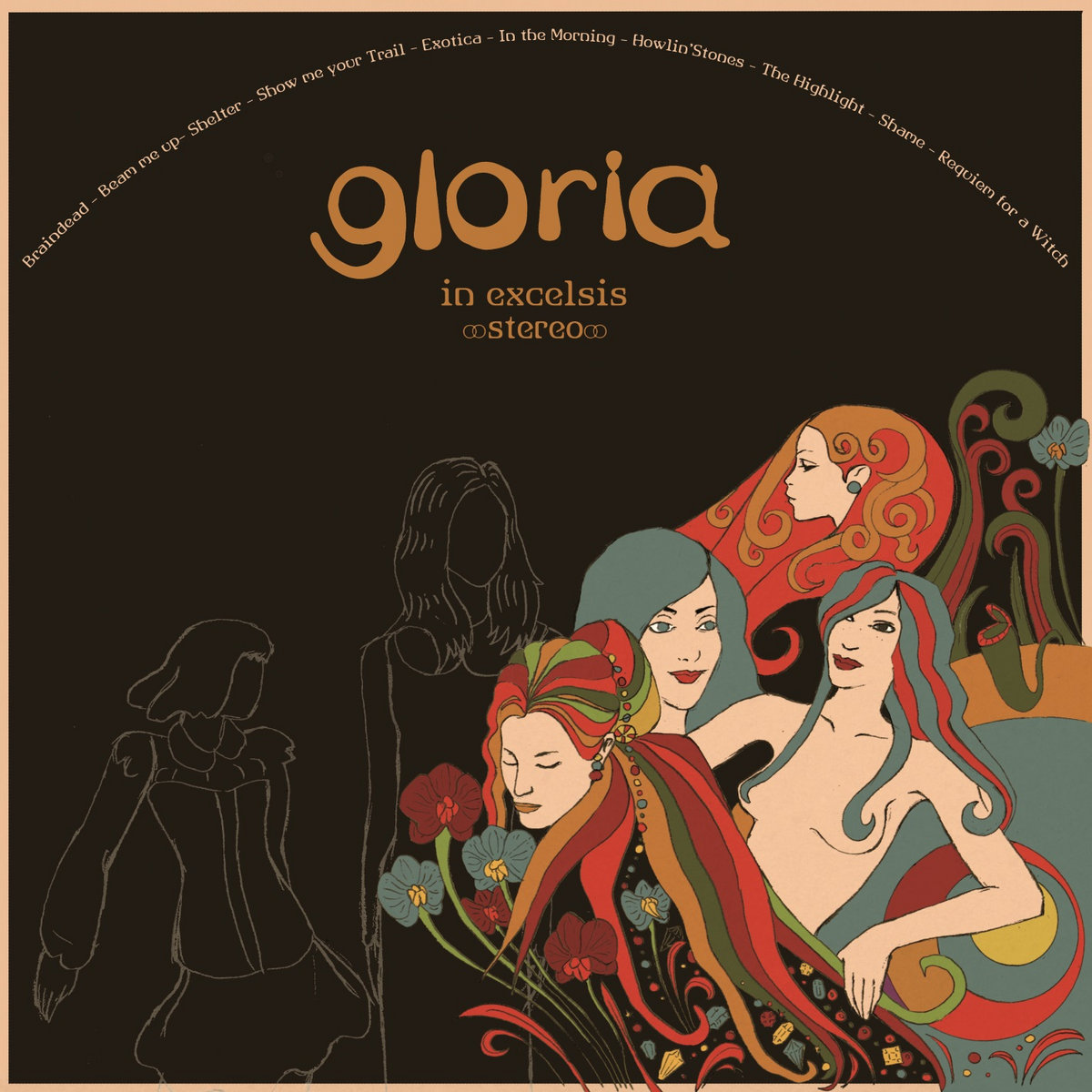 There's definitely a whiff of patchouli oil around the Paris indie scene at the moment and that's no bad thing if you ask me. There was no better example of the current wave of Gallic psychedelia than

Gloria's long-awaited debut that landed in November with an instantly loveable mix of flower power pop and jangly Byrds-esque melody. Cavernous organ and warm guitar throb provide the momentum but it's those gorgeous three-way female vocals that really allow these tunes to take off and fly, slowly building up to massive choruses that are tailor made to fill the room. I was lucky enough to see the release party for this LP and it's safe to say the band have the style and sound to take this much, much further so for now savour the French scene's best kept secret of the year.
The years may be flying by for most of us but it's forever 1992 in British producer Matt Cutler's studio and 'Levitate' was his latest addition to an already outstanding oeuvre of revivalist breakbeat rave that cooks up the genre's most potent ingredients in a heady new recipe. His standard approach of one part blue sky skittering (see Acen's 'Trip II The Moon') and one part cavernous clubland shudder (Zero B's 'Lock Up') works wonder once again although things run to a tighter schedule here with no time wasted as he deals up retro rave gold dust across like XL's finest playboys back in the day. His grasp of the genre is knowing enough to avoid unflattering comparisons with the ghastly fluo revival of a few years back and 'Levitate' is 33 minutes of near perfect tape deck rave.
12. The Men - Devil Music
Having smashed out an album every year since the decade before taking 2015 I was starting to wonder whether Brooklyn's finest had hung up their gloves when their gap between releases stretched to almost two and a half years so I was more relieved than anything when 'Devil Music' sounded the return of Brooklyn's finest in November. Having veered off into their own brand of AOR clatter over the last couple of records this one sees them pare back to the custard pie garage bluster of 2011's 'Leave Home', two minute bangers jostling for attention before the vehicle breaks off into unchartered territory with belching sax, warped 60s psych and outright abstract noise. Always the same yet always different, they're always a welcome visitor.
11. Hope Sandoval and the Warm Inventions - Until The Hunter
Mazzy Star's 'Seasons Of Your Day' brought the band's much loved soft focus coo back into the limelight a couple of years back and Hope's wasted no time in re-establishing herself as a unique voice in a swamp of woozy soundalikes. If 'Seasons' owed more to the serene acoustics of mid 90s Mazzy, this new Warm Inventions offering tracks back to the 3am paranoia of 'She Hangs Brightly', an album engraved on my memory after I spent several hours listening to it on loop during a night coach trip across central Europe a few years back. The haunting shiver of that record courses through 'Until The Hunter' and the gorgeous Kurt Vile duet 'Let Me Get There' is her strongest collaboration since she was sharing mics and more with Jim Reid. She rarely disappoints and this is no exception.